In this chapter you will find out how to encrypt a virtual machine you created. If you run a forensic analysis of the .vdi file on a virtual machine you've created before, you can get full access to all the files of the virtual system without launching the operating system and therefore bypassing the user's built-in protection.
It's worth noting that a virtual system has two operation modes: live – when you are not required to install the virtual system, and it taps into RAM's resources without storing any data after powering down. The normal mode requires the installation on a virtual hard drive when the system stores all your files and functions as a fully-fledged analog of your host operating system.
To protect the files of the installed virtual operating system, you need to encrypt the virtual disk. In some systems, for instance, Linux Mint, full disk encryption is already available by default, other virtual systems can be encrypted with the help of the built-in tool VirtualBox.
To encrypt using VirtualBox, you'll need to install Oracle VM VirtualBox Extension Pack that can be downloaded on the official website.
Link https://www.virtualbox.org/wiki/Downloads
This software is a free, cross-platform extension pack for the virtualization system VirtualBox.
The installation of the product runs in the VirtualBox program itself if you double-click the file of the extension pack.

Step-to-step installation guide:
1. Run VirtualBox
2. Double-click the extension pack you've downloaded
3. In the VirtualBox window, click on the Install button
Scroll down to the user license agreement and click on the I agree icon if you agree to its terms and conditions.

The installation will run automatically and takes less than a minute

After the installation is complete, you will see a pop-up message saying that the installation was successful.
The installation process for the extension pack is complete.

Now you are free to use the encryption system.
Open the program, select the virtual system - Settings>General>Encryption.
Choose the encryption method you wish to use (we recommend AES-256) and enter a strong password. Be aware that this will reduce the download speed of your virtual machine as the data need to be decrypted before their download.
This is how it looks on macOS. Select the virtual machine you want to use and go to Settings>General>Encryption. Select the encryption type and password. Remember that a strong password must have at least 25 characters.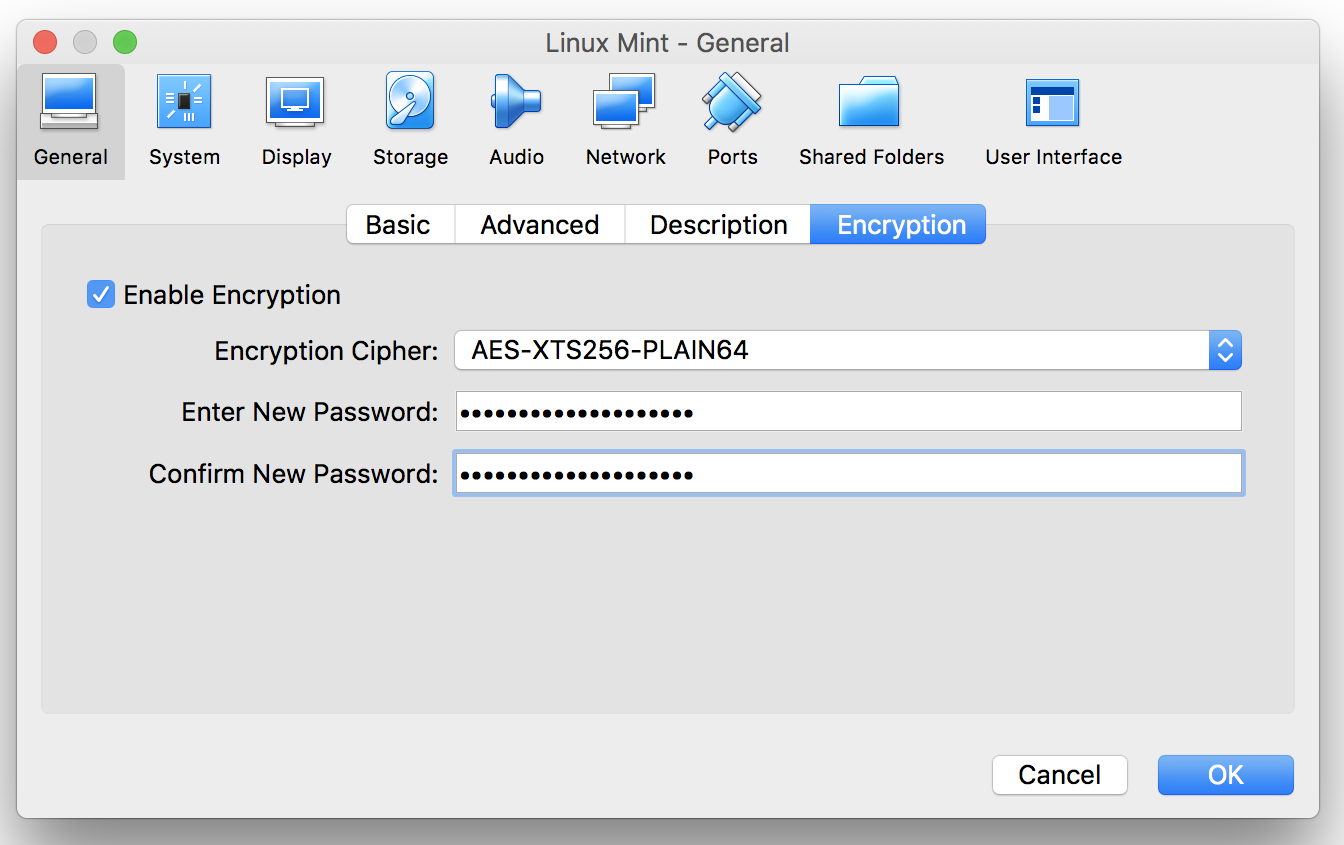 Wait until the encryption is complete.
 Now with the launch of your virtual operating system, you'll have to enter the password for decrypting files, but your data will be securely protected.