Data leak and identity theft
This topic is extremely close to checking data for identity theft or rather data leak is part of identity theft. However, they are not absolutely equal. If hackers hacked the forum where you had an account, this is a data leak, but not identity theft, since your account is not directly connected with your personality.
But if hackers have your account on the dating site with your photos or a copy of your passport and they use this information for illegal purposes, for example, to receive an online loan or to register an account with your data, that is identity theft.
Therefore, to find out if there was a data leak you should use the tips to check personal data for identity theft. There is a separate chapter of the course devoted to this issue.
Ways to check for leak
Check through leak aggregators
There are sites that collect information about public leaks and the database of leaked accounts and give users the opportunity to check their email address for the presence in these databases.
I recommend using the largest and most popular leak aggregator Have I Been Pwned. Firstly, it has the largest database, secondly, it does not give out passwords and does not sell data, as you may understand from reading the chapter not all services treat personal data with such respect.

The principle of leak aggregators is the same for all, you specify your email or login and the site checks if it is in the leak databases. You need to recall all your emails, if the current one you use for registering on sites differs from yours a year or two ago.
Advice
Recall your email addresses and check them in the leak aggregator.
Please note: in accordance with its privacy policy, Have I Been Pwned collects all the data you enter on the search form, browser information and IP address. All this information is stored indefinitely on servers leased from Microsoft in the United States.
Check for occurred leaks
Even the largest leak aggregators have their drawbacks. Unfortunately, not all of the hacked data gets into free access, and therefore, it doesn't go into the base of hacked accounts. It is known that between 2013 and 2015 Yahoo leaked all user accounts, but most likely when checking the Yahoo account the service will not detect the leak, because the data was not posted and did not fall into the aggregator database.
The advantage of such compromised accounts databases is in their convenience, but for a better check it is recommended to go through the list of resources where there were known leaks and recall whether you had accounts there. This can take a long time, but it is important to check the data for leak.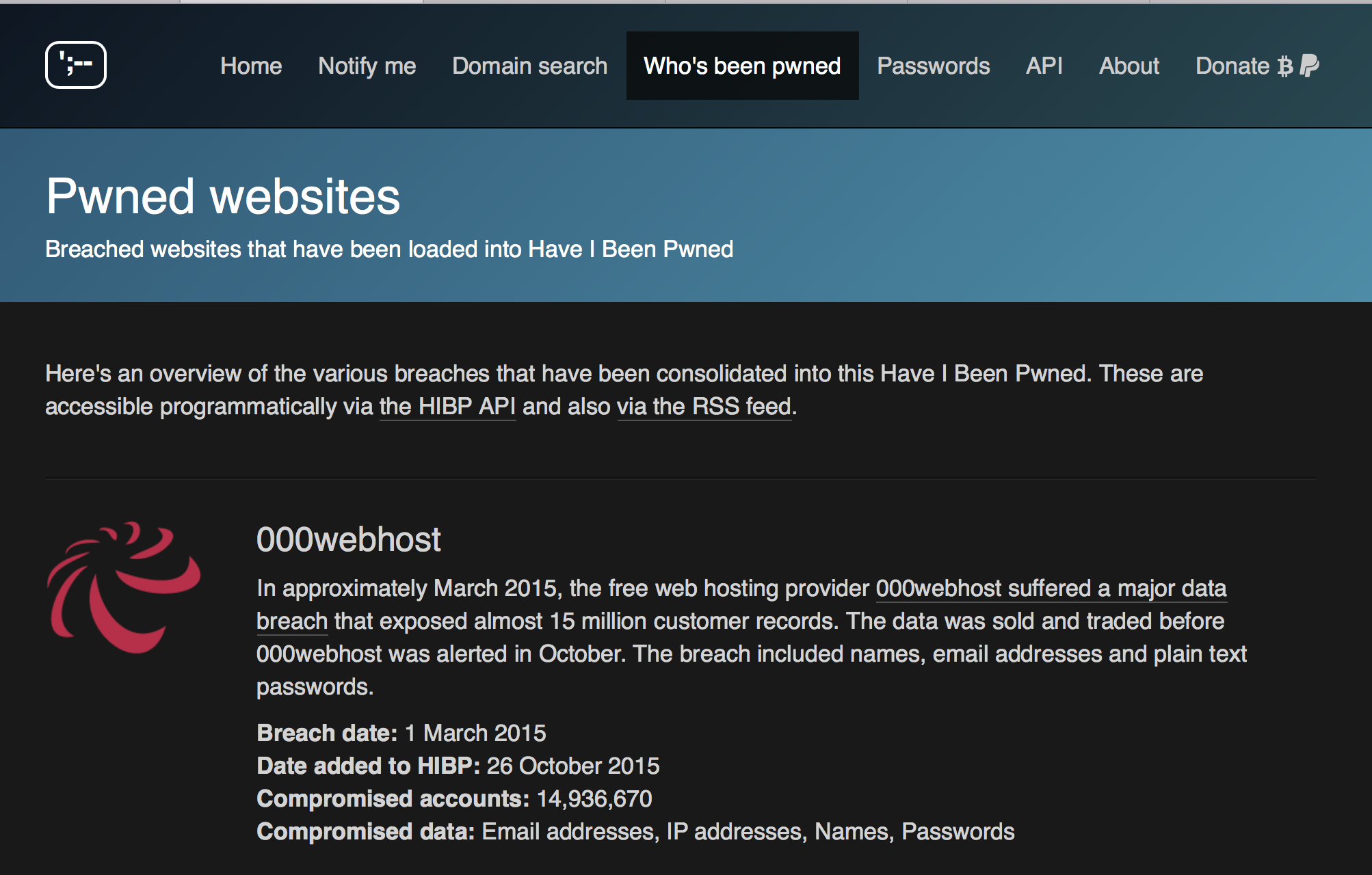 Advice
Go through the list of major leaks and hacking sites of recent years and recall whether you had an account there.
Check data through search
Write down all the sites you have used in recent years, then check them through a search by adding words like "hacked" and "leak" to the query. This is the most boring, but the most effective way to check. It is suitable both for mass and targeted checking of any site for leaks.
Advice
Enter the site name in the search and add words like "hacked" or "leak" to the request to check information about possible leak of personal data.
What to do if your data has leaked
You will not find any magic advice here. It is necessary to change the password to the account, enable two-factor authorization, and it is advisable to delete it at all if there is no interest in it. If your identity is stolen, there are a number of special measures that will minimize negative consequences.
Advice
If you had your account leaked, the best solution would be to delete one.
Not all leak aggregators are equally safe
As part of this material, I offered you the largest and most popular service, but using the search, you may find a much larger number of leak aggregators. Not all such services are safe to use.
Some of them are focused on phishing, when the user is asked for data supposedly for verification, and in fact they are used to steal an account or for sale. Some such services request the user login and password directly, without which verification seems to be impossible.
There is another category of services that after entering data report their leak. Sometimes they check with a public database of another service, less often they simply mislead the user without even checking the data (it works like fake free antiviruses, finding non-existing threats from the victim and demanding money for their removal).
After verification, the victim is offered a number of paid services to remove data leaked to the network. I have not checked the effectiveness of such services, but it looks like a hoax. I do not know any effective methods for deleting leaked data, especially those that were distribut