Before moving on to this chapter, you need to download and install VirtualBox.
Download widget: VirtualBox
This chapter is a step-to-step guide to setting up your first virtual machine. For this guide, I will be running VirtualBox on a Windows operating system as an example. VirtualBox looks and runs practically the same on all operating systems, and even if you are a macOS user, you are unlikely to encounter any difficulties when creating a virtual machine.
 Run the program and press New. 
A virtual machine is created specifically for the operating system you prefer to use. In my mind, you will do fine installing a Linux Mint version. Go to the official site and choose the Cinnamon 32/64-bit edition.
Download widget: Linux Mint
 If you wish to install Windows 10, you can get a copy from the official website.
After you download the image of your operating system, you can finally create your virtual machine. First, give it a name and select type and version.
Name - choose any name for the virtual machine you are making.
Type -  select Linux as you will be installing Linux Mint.
Version – select Ubuntu (32/64-bit) since the Linux Mint distribution is based on it.
Be aware that a virtual machine is just creating a virtual computer within your host computer. A virtual machine uses your computer's physical hardware, specifically RAM and space on a hard drive.
For Linux Mint, we recommend you to allocate 2,048 MB of RAM, it will be used only when your virtual machine is launched. If you run a virtual machine on Windows, the recommended memory size is 4,096 MB.
Next, you need to create a virtual hard disk where the system will save files.
Type VDI (VirtualBox Disk Image)will be fine.
Next, you need to decide between a dynamic or fixed disk, go for dynamically allocated as it expands as more storage is needed. And though the developers of the hypervisor argue that a fixed disk runs faster, in practice you will hardly notice. It's much more important that you use a SSD on your device, preferably the latest, most advanced drive.
Linux Mint takes up as much as 10 GB of hard drive space,  plus you need to allocate enough space for files. So I usually allocate 50 GB for Linux Mint, but this amount will be used up only when needed.
Your virtual machine has been successfully created, it will appear on the list of virtual machines.
Run the Virtual machine you've just created. The system will ask you to specify the path
to the image of the operating system you've downloaded before.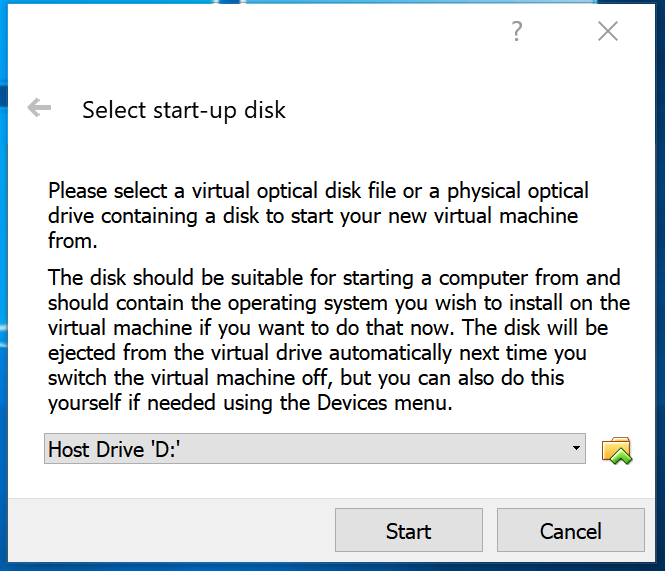 Now enjoy using your virtual operating system Linux Mint! This way you can create a virtual copy of almost any available operating system.
In the next chapter, you will find out about live systems, how to install, clone and create a snapshot.